Life is developing more and more, the need for work and life is constantly. Products from Mica (Acrylic) have long become indispensable products and have received great attention from customers since then MGUI develops a service to provide customized product processing solutions for customers.
On-demand Mica processing on CNC machines or lasers is getting more and more attention because it is possible to create products with sophistication and accuracy up to 98%. Accordingly, the machinery and equipment is also updated and upgraded to be the most modern and optimal, meeting the needs of processing goods in large quantities and with high technology.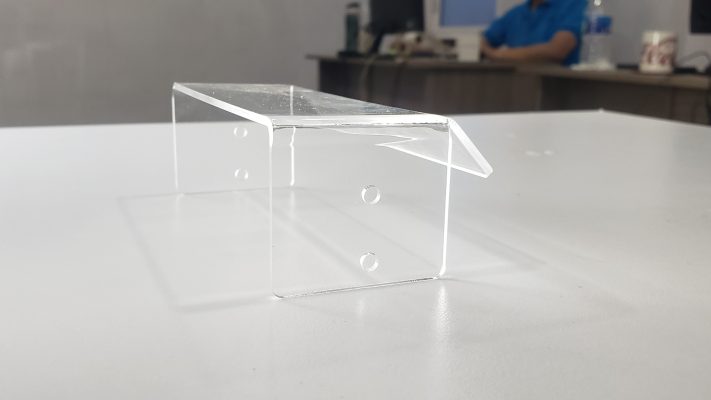 Common products processed from micaWith more than 10 years of experience in mica processing from the time we were a small factory to the establishment of a more professional company, we receive a lot of orders as required from our customers. There are retail customers, customers are companies, small and medium enterprises, to large export orders of several thousand products…. This article is for everyone to have some more information based on our experience The services that the mica processing workshops receive Cut Mica to the right size and other specifications When you need a few or a large quantity.
Large acrylic sheets to make details of certain products, with holes, corners, various shapes to suit needs, desired thickness and quality of mica… all mica processing workshops accept.We will use Lazers to cut according to the available drawings, or the technician can draw the design according to your description if you do not know how to use specialized software to draw. Any shape Lazers can cut, such as circles, stars, winding patterns, etc. Customers can unleash their creativity according to their product needs. Your cafe needs  transparent menus, your store needs boxes to display products, then you need to go to the workshops to ask them to cut to the desired size and then bend it again. to make the finished product. Mica bending limits the collage joints of the finished product. Increase the aesthetics and durability of the finished product.For example, instead of cutting 6 square pieces of mica to glue it back into a mica box, we just cut 3 sheets, 2 bottom panels, and 1 body plate and bent it perpendicularly 3 times to form a box, then glue 2 insole. Mica engraving on demand Mica engraving means that instead of cutting off the motifs, we just sculpt them at a depth just enough to decorate and save product information. Customers often come to engrave motifs, names, thank you sentences, greetings on mica products as gifts, decorate to increase the aesthetics of the product. Large enterprises allow them to engrave their logo on their products to do well in the brand marketing segment and to facilitate business. Floating micaIn addition to engraving and cutting deep into mica, recently mica embossing technique is also being used in processing for the advertising industry. Floating suction processing is applying heat pressing technology by vacuum machine. Mica is heated and pressed according to a pre-designed mold
**** Some notes when contacting the factory to order Mica processing Factory 's process when working with customers needs to be accompanied by commitments on time to complete orders and product quality Before placing an order, you should ask the factory to make a sample and have the right to modify it until you are satisfied before signing a contract for finished product production .
Please keep the trial version for comparison with the finished product upon receipt.If it is a large order, you should monitor the progress and check the goods several times during the finished product process, to control and have the desired shipment on time. Receiving goods should ask the factory to pack the same quantity for 1 piece to facilitate checking the quantity. You should ask the workshop if they have any notes on how to use and maintain them to prevent damage and protect them for a longer time .
+ B1 mockup and quotation
+ B2: Further consulting customers when they see better solutions in terms of design, materials…
+ B3: Receiving deposit for prototypes, Processing prototypes and editing with customers (customers approve sample"
+ B4: Receive deposit to start processing the finished product
+ B5: Receive payment and deliveryWarranty mode will depend on the characteristics of each product, with or without warranty, different warranty period and specifications.
The demand for processing on demand is increasing day by day, we hope that our customers wisely choose quality and cost-effective workshops in accordance with the level of sophistication and refinement of the finished product. If there are any issues that need support, about materials, about processing, about technology… please contact us and we will give you free and enthusiastic advice. Mgui Green Materials is proud to be a genuine supplier of transparent mica sheet products in the southern region. With many official branches in Ho Chi Minh City, Binh Duong, Dong Nai, Binh Phuoc, Long An, we wish to meet all the needs of customers in the field of advertising materials and bring new products.
Address: 396 Quốc Lộ 1A, Phường Tam Bình, Quận Thủ Đức, TP.HCM
Tel: 0944.775.880
Email: hellomgui@gmail.com